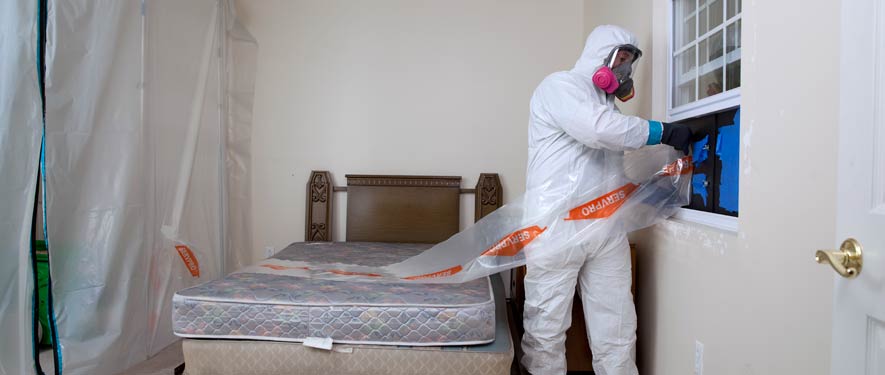 Biohazard Cleanup and Restoration
Biohazards must be removed, cleaned, decontaminated, transported and properly disposed of to ensure the health and safety of all involved. Biohazards contain bacteria and viruses that pose health risks to family, friends or employees who may come in contact with biohazards. Blood-borne diseases, bacteria, and viruses found in blood and other bodily fluids can live outside the body for days and sometimes weeks. HIV & Hepatitis are the most commonly known risks that can be contracted from biohazards. When a traumatic accident, suicide, crime, death occurs or you have biohazards on your property it must be cleaned and disinfected properly.
Biohazardous material includes:
blood
bodily fluids
feces
urine
vomit
used hypodermic needles
soiled clothing
personal items
and anything else that has potentially been exposed to diseases that could be harmful to others.
Please refer to our Biohazard Emergency Tips - Until Help Arrives Guide and follow these tips to protect yourself and your property.
Need Biohazard Cleanup Services?
Call Us Today – (714) 248-9261
The decontamination of a home or business due to trauma, sewage backups, chemical spills, hoarding or other biohazards can be both dangerous and emotional. Specialized training and experience is key when choosing a cleanup company to resolve these circumstances.
We provide cleanup and recovery services for many biohazard situations. These include the following:
Suicide/death accidents
Homicide cleanups
Blood cleanup
Accident cleanup
Hoarding scenes
Animal waste/remains
Chemical spills
Tear gas cleanup
Meth lab cleanup
Common Biohazard Scenarios
Sewage Backups
Sewage backups and dark water intrusions are more than nasty, smelly deposits – these damages also introduce harmful microorganisms into a structure. We remove the sewage, contaminants, and moisture, and help ensure the structure is properly cleaned, disinfected, and deodorized.
Bloodborne Pathogens
We remove and dispose of bodily fluids, tissue and other potentially pathogenic substances resulting from accident, trauma, crime or death. Trained SERVPRO of Westminster Professionals clean, disinfect and deodorize the structure.
Illegal Drug Manufacturing Labs / Meth Labs
SERVPRO realizes many of the chemicals used in the production of illegal drugs such as "meth" are volatile and can leave harmful residues throughout a structure. We follow federal and state guidelines to properly clean all surfaces.
24 Hour Emergency Service
We are available 24 hours a day—our highly trained technicians are standing by. We have the qualified trained professionals who are ready to respond to these incidents. We will always treat your property and the people involved with the greatest empathy and respect in the face of trying circumstances.
SERVPRO of Westminster proudly serves Westminster, Midway City, and surrounding areas.